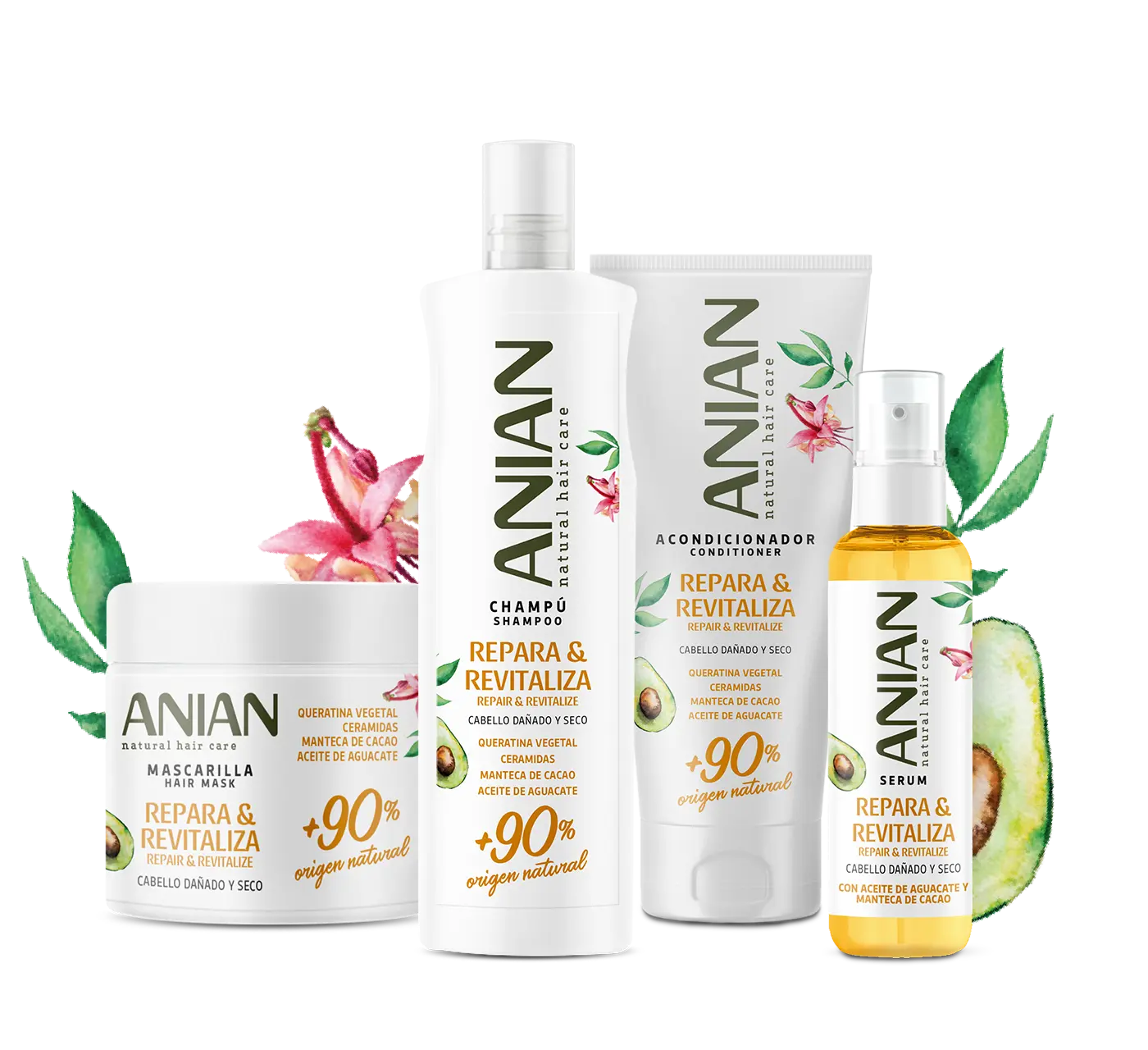 Travel through your senses to an exotic destination of long Caribbean sunsets. This ritual integrates gentle sea breeze, soothing waves sound and the gentle swaying of a hammock into your routine.
IS IT FOR ME?
FEATURES
OF THE COLLECTION
Aroma

Tropical sweet and relaxing.

Duration

The scent remains in the hair in a subtle form.

Texture

The shampoo and conditioner have a fluid texture, while the mask has a full-bodied but not overly dense texture for its ease of application. The serum is oily without weighing down the air.
FOR WHAT TYPE OF
HAIR IS IT?
This collection is designed for damaged and dry hair in need of deep repair. The Repairing & Revitalising products seal split ends and restore hair's vitality.
+90% NATURAL ORIGIN
SUITABLE FOR VEGANS
The Repairing and Revitalising collection combines tropical ingredients such as Avocado Oil, Cocoa Butter and Plant Keratin. This exotic combination acts deeply nourishing, repairing and revitalising your hair.
Aceite de Aguacate
Rico en vitaminas E y B y con grandes propiedades antioxidantes. Es conocido por su poderosa acción reparadora que aporta suavidad al cabello.
Manteca de Cacao
Rica en ácidos grasos y vitamina E actúa como antioxidante. Además, la manteca posee una textura agradable y un exquisito aroma.
Queratina Vegetal
Sella las fibras capilares quebradas y controla el encrespamiento. Suavidad y protección para tu cabello.
DISCOVER THE COLLECTION
Enjoy a special moment for you, to take care of yourself and feel good. Create a sweet and relaxing experience through the tropical scent of this collection. A moment of relaxation that will transport you to an exotic paradise!.
Champú
Limpia la fibra capilar desde el interior. Convierte ese momento del día en un ritual de reparación para ti y tu cabello.
Acondicionador
El acondicionador Repara y Revitaliza hidrata y facilita el peinado del cabello. Su formulación te permitirá recuperar el cabello dañado.
Mascarilla
Nutre en profundidad y repara el cabello dañado, reforzando la fibra capilar desde el interior y previniendo su rotura.
Sérum
Incluye ingredientes concentrados y activos que penetran profundamente en el cabello, sellando las puntas y proporcionando una hidratación extra.
EXPERTS OPINION
Alba Martorell
Quality Laboratory
"Many external factors damage the hair cuticle and its structure, affecting its ability to retain moisture and leaving hair dry and devitalised. To protect and restore it, we have developed a vegan formula based entirely on natural ingredients, vegetable protein and lipids that combine to balance the hair's structure by deeply hydrating and repairing it, restoring strength to brittle and fragile hair. "
WE CARE
In Anian, we want to contribute to an eco-conscious society, that's why:
We use 100% recyclable packaging
We use packaging made from 25% recycled materials
We bet on natural ingredients
We do not test our products on animals, Cruelty-free
All our formulas are 0% parabens
Investing in making our production processes more sustainable